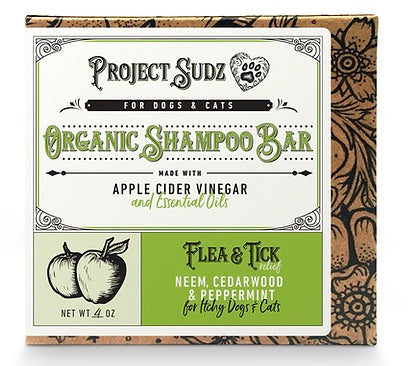 Project Sudz Flea and Tick Relief Shampoo Bar
Project Sudz Flea & Tick Shampoo Bar
This popular Flea and Tick Relief Shampoo Bar helps eliminate itching from bug bites as well as helps to repel pesky insects with the addition of essential oils and diatomaceous earth, Neem oil, coconut oil and castor oil which all on their own has been known to keep fleas and ticks off animals. 
Ingredients:
Organic Saponified Oils (Olive, Coconut, Neem, and Castor)

Organic Apple Cider Vinegar

Cedarwood Essential Oil

Peppermint Essential Oil

Niaouli Essential Oil

Diatomaceous Earth
4oz. bar. Hand Made in USA.
Directions:
Wet your pet. Hold bar in hand & rub all over your pet's belly, neck, legs and feet. Lather hands over remaining coat, avoiding the eyes and interior of the ears. Rinse & repeat, if necessary. Allow bar to dry before storing.
Project Sudz is committed to reducing single use plastics.

Cruelty Free, Plastic Free, Vegan.