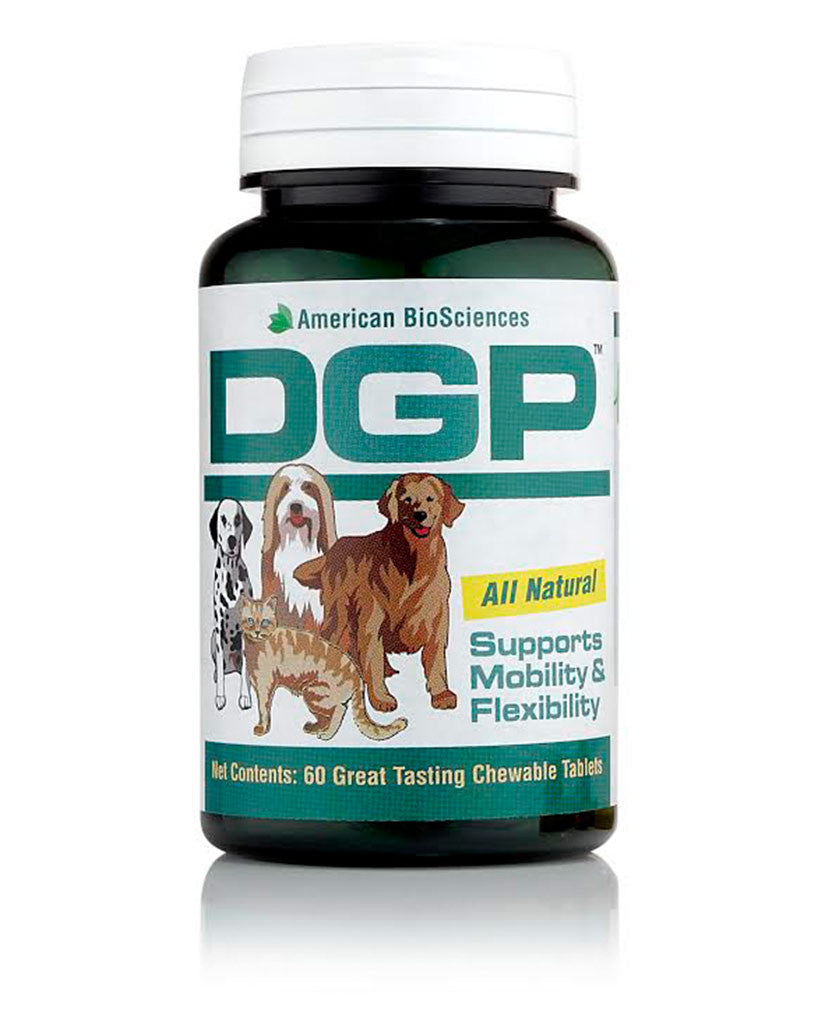 DGP® - Dog Gone Pain
Natural anti-inflammatory for hips and joints 
Dog-Gone Pain, or DGP is a nutraceutical that contains naturally occurring substances with medicinal benefit. It is manufactured in Australia, in an approved TGA facility. The manufacturer claims that the herbs used in DGP are raised using standardized growing techniques, thereby ensuring efficacy from year to year and that each ingredient is "human grade" and grown without pesticides or herbicides. DGP offers a banquet of anti-inflammatory herbs useful in aiding multiple systems: respiratory, circulatory, digestive, thermoregulation, liver and gall bladder. All of which have the tendency to be compromised as dogs age. This may be the reason why animal guardians witness a revitalizing effect when their dogs are given DGP. 
DGP's all-natural formula, works quickly and more completely than most other natural products, without the negative side effects of most harsh prescription medications.
Supports mobility and flexibility.

Is FAST ACTING.

Is veterinarian recommended.

Is all-natural and safe.
Aches and pains reduce your dog's enjoyment of life.  Running, walking, getting into the car, joining you on the couch or just rising to greet you all become painful ordeals. Let DGP help your dog become the same carefree and playful member of the family he or she used to be and want to be again. DGP was developed by leading Australian veterinarians & herbalists. It's a complete, all natural formula that revitalizes older dogs physically and mentally. Supports joint function, enhances mobility and demeanour, brings out the "puppy" in your dog. Noticeable results in just one week!
What's in DGP that makes it work so well?
Feverfew—An anti-inflammatory and pain reliever. Soothes joint discomfort.

Celery seed —An all around calmative. Provides potent anti-inflammatory.

Boswellia serrata—A strong anti-inflammatory and analgesic. Blocks the production of inflammation causing leukotrienes.

Native Australian herbs— A proprietary blend of some of Mother Nature's finest herbs.

Marine collagen extract— A safe, non-toxic dietary source of glycoaminoglycans that promote healthy joints.

Turmeric-A potent, anti-inflammatory and digestive aid.

Bromelain and Papain— Digestive enzymes that help soothe digestive disorders and combat intestinal parasites.

Corydalis root— An excellent tonic for the circulatory system.

Cayenne —Boosts nutritional uptake in the digestive system for GI health.

Wheatgrass— Contains more than 80 minerals, amino acids, and vitamins.

Proprietary blend of mucopolysaccharides, wild rosella, capsicum extract, aniseed myrtle and mountain pepper.
In addition, DGP contains calcium, magnesium, phosphorus, zinc and other bone building minerals. 
| | |
| --- | --- |
| Active Ingredients | Mg Per Tablet |
| Marine Collagen Extract | 300mg |
| Boswellia Extract | 30mg |
| Corydalis Root | 25mg |
| Wheatgrass | 20mg |
| Turmeric | 15mg |
| Fever Few Extract | 6mg |
| Celery Seed Extract | 3mg |
A proprietary blend of (Mucopolysaccharide Complex, Malt Extract, Wild Rosella, Capsicum, Aniseed Myrtle, Mountain Pepper) 130mg
A proprietary enzyme blend of (Bromelain 2400GDU & Papain 6000) 60mg
Inactive Ingredients: microcrystalline cellulose, magnesium stearate, natural beef extract, silicon dioxide, stearic acid
Click here for research on DGP, unbiased trial by The Whole Dog Journal.
Daily Dosage:
Under 15 lbs = 1/2 tablet. 15 to 30lbs = 1 tablet. 31 to 60lbs = 2 tablets. 61 to 90lbs = 3 tablets. 91 to 120lbs = 4 tablets