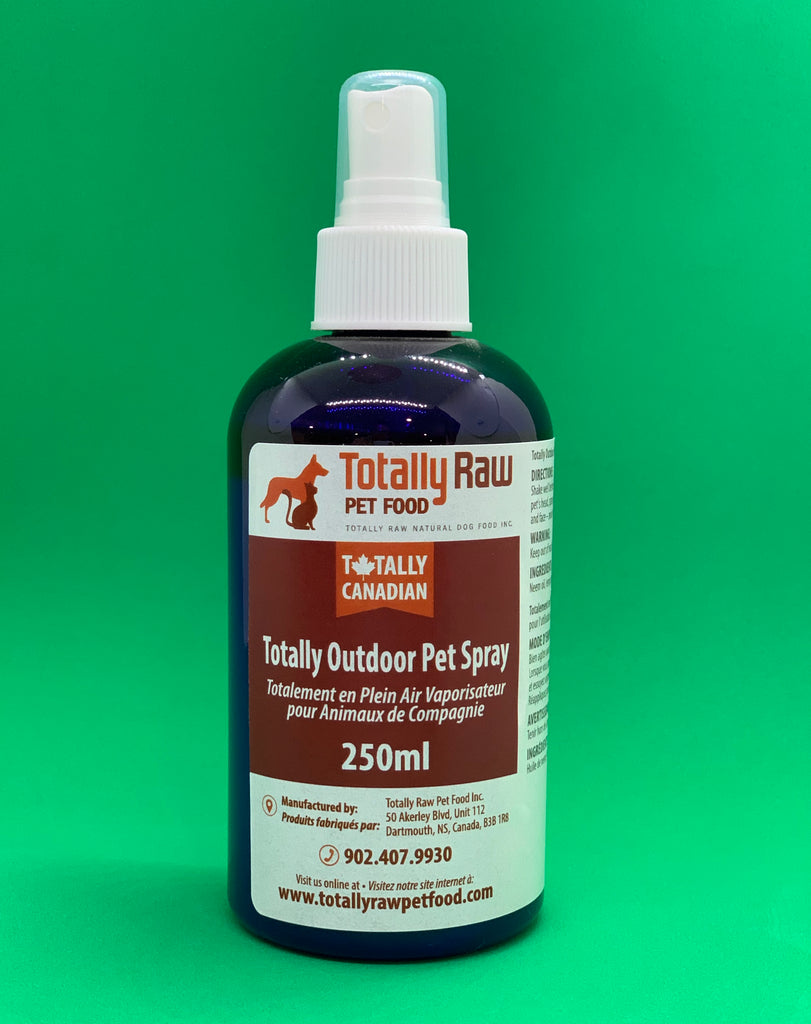 Flea & Tick Bug Spray
Natural bug spray.  Flea, tick, mosquito protection.
Totally Raw Outdoor Spray is formulated and produced in Nova Scotia, Canada.
100% natural essential oil spray that is safe and effective for dogs and cats of all ages. Even humans!
Active Ingredients:
Neem Oil, Lemongrass Oil, Cinnamon Oil, Sesame Seed Oil and Castor Oil.
Neem Oil: Provides many healing and protecting benefits for skin and coat. One of the most common uses of neem oil for dogs is as a natural pesticide and insect repellent. It's effective against mosquitoes, mites, parasites, fleas, and many kinds of ticks.
Lemongrass Oil: When formulated into a spray for pets it provides a shiny, healthy coat. Effectively helps to repel fleas, ticks and mosquitoes.
Cinnamon Oil:  A versatile essential oil widely used. Used in households for its antimicrobial, antiseptic properties. Also used as an insecticidal. It is an effective environmentally-friendly ingredient. Added bonus, helps to repel ants. (note the natural colour of this essential oil can tint white coated dogs.)
Sesame Oil: A rich, almost odourless oil derived from sesame seeds. When combined with other essential oils it promotes healthy skin and coat and provides a protective oil barrier to help prevent insects from biting.
Castor Oil: It has been used for years by veterinarians for allergic skin, healing wounds, dandruff and more. It helps to create a protective barrier on skin that helps to prevent insects from biting.
Directions:

Shake well before use. Spray generously on pet, including stomach and legs. When applying to your pets head, spray solution onto the palm of your hand and carefully wipe into your pet's neck, ears and face-avoid eyes and nose. Re-apply daily or as needed. 
Safe and effective for human use. Can be used on cats if sprayed lightly.
Size: 250ml