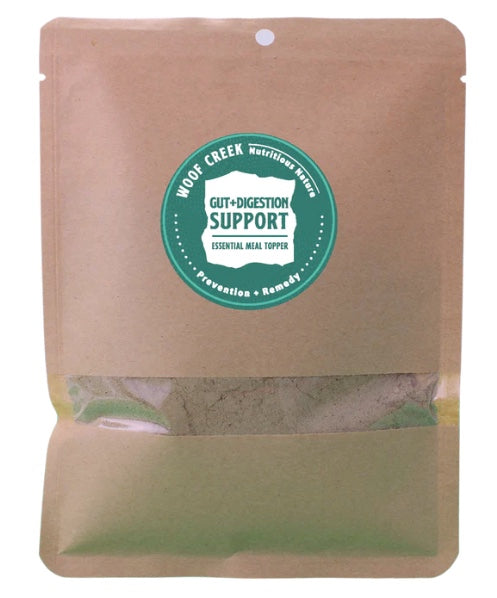 Woof Creek Gut + Digestion
Woof Creek Gut + Digestion Support. Pre/Probiotic + Postbiotic Meal Topper
Essential Gut + Digestion Support balances & bolsters the gut microbiome, GI-tract & total digestive system. Vital for all dogs as a wellness regimen. Pivotal remedy dosage for: frequent gas, bad breath, acid reflux, irregular stool (constipation to diarrhea), anal gland issues, frequent vomiting, & more. Total system regulation with: species-specific healthy gut microbiota cultured directly from wolves & dogs; antioxidant organic superfoods and inflammatory medicinal mushrooms. Our proprietary blend of premium, natural, wholly bioavailable (+aromatic & flavorful!) ingredients offer real prevention + remedy support for your fur baby.
Proprietary

 

Wolf & Dog Derived Probiotic 

Cultures: Pre-and-probiotic microbiota & post-biotic metabolites inhibit pathogen growth/life, promote gut-wall strengthening, regulate/protect whole digestive system;

 

870 Million CFU/scoop.

Functional Mushroom Blend: Chaga and shitake medicinal mushrooms super-boost the immune system and reduces intestinal inflammation.

Organic Superfoods: Regenerative antioxidants: noni fruit, alfalfa (also prebiotic), and pumpkin seed (also anti-parasitic & ultra-balancing fiber) all contribute to optimal digestive function.
Pup Parents will simply add powder to 1 meal/day; it can be added to wet or dry dog food. There are 100+ scoops per tin/pouch; Dosage is based on dog's weight. 
Directions for Use: 1 scoop = 1/4 tsp.
| | |
| --- | --- |
| 0-25 lbs | up to 1 level scoop |
| 25-50 lbs | up to 2 level scoops |
| 50-75 lbs | up to 3 level scoops |
| 75 lbs + | up to 4 level scoops |
Use Full dose for Remedy Support: Use Half dose for Prevention Support.

100+ scoops per tin/pouch: 1-3 month supply for remedy support / 3-6 month supply for proactive support.

You can mix powder w/filtered water, sodium-free broth, or Omega 3 Oil to make a delicious gravy, or even add to egg, Greek yogurt, kefir, or clean-ingredient peanut butter!

 Woof Creek's pups, Lily & Layla, like their toppers as-is, but every pup is different!

Start w/half o

f daily dose and gradually increase over 3-5 days.