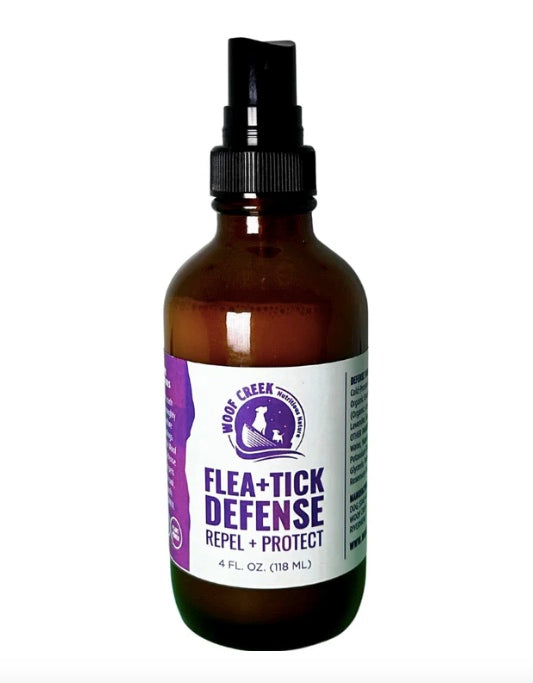 Woof Creek Flea + Tick Defence Spray
Woof Creek Flea + Tick Defence Repel + Protect Natural Spray
Essential Flea + Tick Defense Extra Protection Spray naturally repels fleas, ticks, mosquitos + more. This all natural topical spray offers extra protection when pup is outdoors for longer stints and in higher-risk surroundings. Recommended to use in conjunction with our all natural Essential Flea + Tick Defense Meal Topper of superfoods and medicinal mushrooms. Together, they are helping parents reduce or eliminate the use of harmful toxins (pesticides) of a synthetic consumable monthly flea + tick regimen or collar. Our unique blend of powerful, premium, natural ingredients offers real prevention support for your dog.
DEFENSE INGREDIENTS:
Cold-Pressed Organic Neem Oil (2.5%)

Organic Essential Oil Blend (1%) includes:

Organic Lemongrass

Organic Peppermint

Organic Lavender

Organic Geranium

Organic Eucalyptus

OTHER INGREDIENTS (96.5%): Water, Natural Castille Soap (Water, Potassium Oleate, Potassium Cocoate, Glycerin, Potassium Citrate, Citric Acid), Xanthan Gum

This all natural product is environmentally friendly. Using selectively sourced, clean ingredients while reducing the production and use of pesticides. The Glass Spray Bottle was chosen for further eco-consciousness. Handmade by Canine Nutrition Specialist, Chef Scot Hill, who formulated his integrative veterinarian-informed blend with the lightest, easiest scent for puppers' noses while maintaining the necessary strong repellant aroma to effectively repel those pests we want our pups protected from. 

Directions for Use: Shake before each use. Spray your pet's coat until slightly damp. Apply before outdoor hikes and longer outings: Extra precaution/companion to Woof Creek's Essential Flea + Tick Defense Meal Topper. (Do not apply to pets under 12 weeks old. Store in a cool dry place. Avoid eyes & mouth. KEEP OUT OF REACH OF CHILDREN.)

The 4 FL OZ bottle is a 3-month supply for a small dog that goes on 1-2 hikes or outings in higher-risk areas per month; it is a 1-month supply for a large dog.