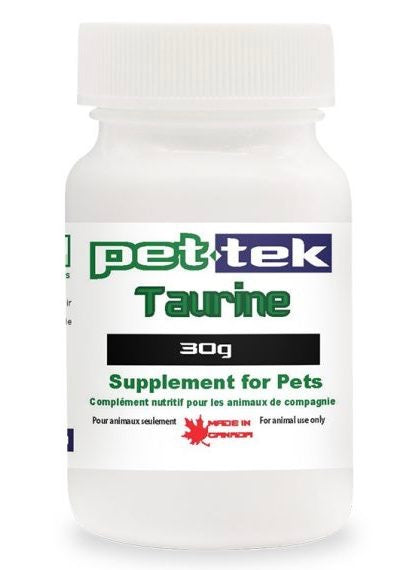 Taurine
Taurine Pet-Tek
An essential amino acid that is critical for normal vision, digestion, heart function and to maintain a healthy immune system. Taurine supplement may help to prevent DCM (Dilated Cardiomyopathy) in dogs. 
Essential Amino Acid for Cats.
Helps prevent bacteria from grouping together to cause bladder infections, urinary tract infections and other related conditions.
Contributes to maintaining a healthy acidity level in your pet's urine which helps prevent the formation of bladder and kidney stones and also keeps urine free flowing.
Helps promote a healthy heart by reducing the oxidation of "bad Cholesterol".
Available in 30g. Made in Canada
Directions: Can be used with wet or dry food. Sprinkle recommended dosage directly on your pets food. 1/4 tsp contains 1000mg of L-Taurine.
Dosage: Cats: 1/8 tsp (500mg) Dogs-per 40lbs 1/4 tsp (1000mg)
Safe for Dogs, Cats and Small Mammals