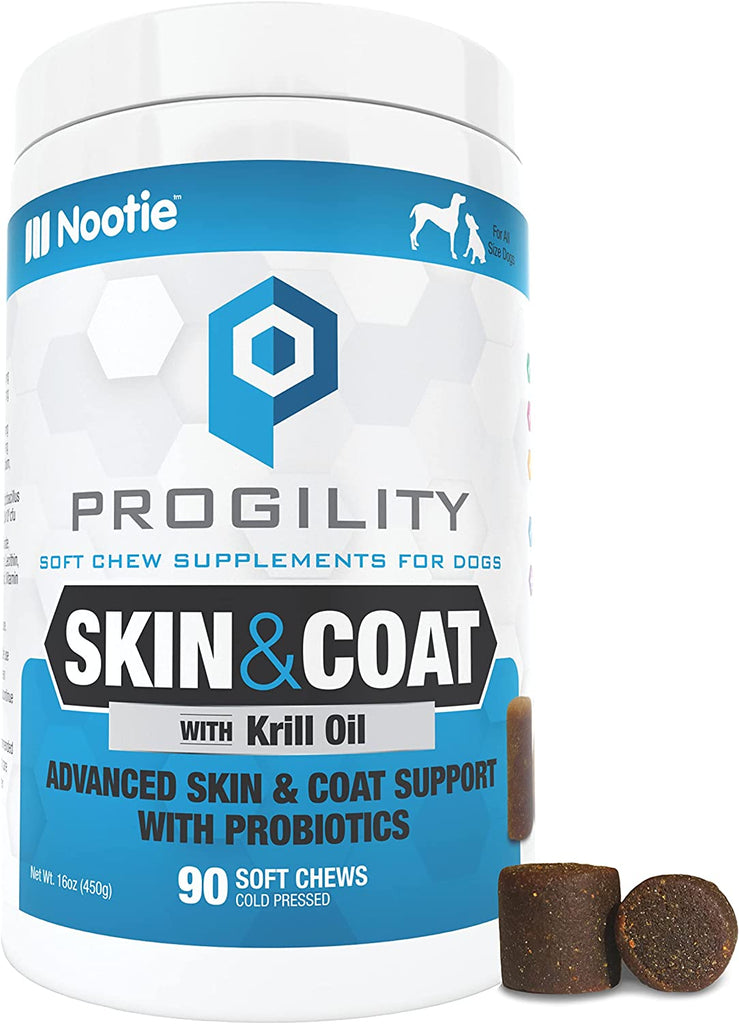 Skin & Coat Supplement
Progility Skin & Coat with Icelandic Krill Omega 3 & Probiotics
PROMOTES SKIN AND COAT HEALTH IN DOGS – Progility Skin & Coat soft chews use a combination of ingredients to improve the overall health in a dog's skin and encourage a shine in their coat. Among the ingredients are EPA (eicosapentaenoic acid) & DHA (docosahexaenoic acid), both of which are plentiful in omega 3s.

SUPPORTS DIGESTIVE HEALTH IN DOGS – Progility Skin & Coat soft chews with probiotics do more than promote skin and coat health. The probiotic ingredients aid in the process of absorbing nutrients, thereby encouraging good digestive health.

SUPPORTS JOINT HEALTH IN DOGS – These chews also contain krill oil, which encourage joint lubrication and contain antioxidants associated with defending cells against disease-causing damaging free radicals. These chews also contain flaxseed oil and anti-inflammatory properties.

COLD PRESSED – Progility soft chews are manufactured using a modern production process called cold pressing, which utilizes cold temperatures to retain maximum efficiency of ingredients compromised by heat.

FOR DOGS OF ALL SIZES – Comes in a container holding 90 soft chews. A single container is enough to provide daily doses of chews to dogs of all sizes.