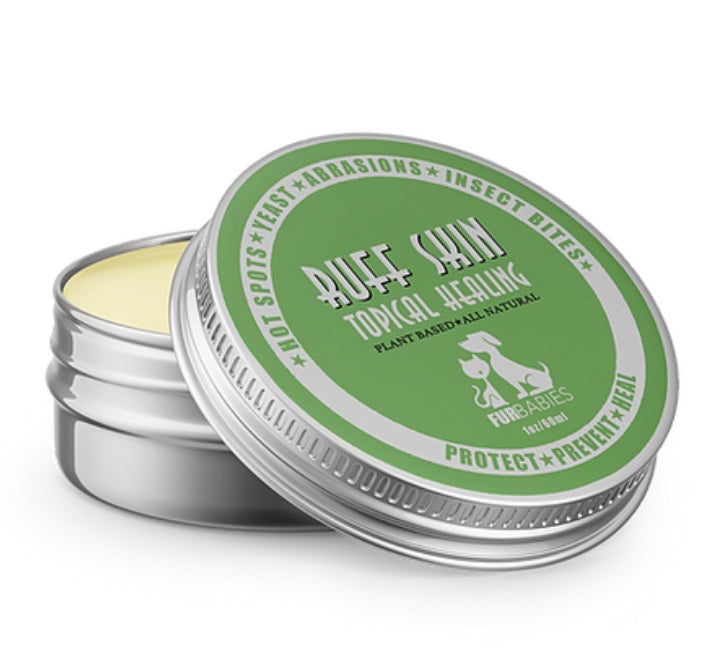 Healing Skin Salve
FurBabies Ruff Skin Salve
A natural remedy for hot-spots, abrasions, fungal issues, irritated skin, wounds, nose and paws.  This all-natural salve kills the bad bacteria that causes infections while helping to heal the wound. Non-toxic and made with calendula oil to help alleviate pain, reduce swelling and promote new tissue growth and decreases swelling. 
100% all-natural, organic salve specifically formulated to treat:
Hot spots
Yeast 
Abrasions
Insect Bites
Dry nose
Paws
Hot Spots are essentially an immune-mediated response of the skin. They appear as red, moist, irritated, sometimes oozy skin lesions. Hot spots also tend to appear suddenly, with no warning. If you see one on your dog, it's important to start treating it right away.
Benefits:
Soothing & fast-acting relief
Reduces redness & pain in the sore spot
Easy to apply to the affected area, a little dab on your fingers and you're good to go
Made from 100% natural & organic ingredients
Can also be used on itchy, flaking or dry skin spots
Hot spots are also referred to as summer sores or moist dermatitis. Our salve is applicable for all of these terms.
Wrinkles.  Treats & prevents skin fold disease, infection & discomfort.
Great for Old English Bulldogs, French Bulldogs, Pugs, Shar Pei, Mastiffs, Boxers, Bloodhounds and more. Used for the following: 
• Skin fold dermatitis
• Yeast & bacterial infections
• Redness
• Chafing
• Inflammation
• Crusty buildup
• Sores
• Pimples
• Scabbing
• Interdigital cysts
• Itchy
• Flaky skin
• Hair loss & baldness
• Unpleasant odour
Nose.  Treats crusty and damaged noses.
This salve is a synergistic, perfect blend of organic, vegan, nourishing, healing and moisturizing ingredients. In just days, our amazing salve for dog noses will have your pup's nose soothed, softened, and rejuvenated. It works much better and faster than coconut oil! It can be applied to a dog's nose to treat painful cracking and dryness as well as a preventative with its natural sunscreen elements. Used for the following:
• Dry, chapped nose
• Crusty & cracked nose
• Hyperkeratosis
• Windburn prevention
• Natural sunscreen
• Extreme weather conditions
• Dry skin around the face, lips and ears
• Canine dry eye
• Discoid lupus
• Brachycephalic breeds issues.
Paws. This natural hemp infused salve helps to protect, prevent & heal dog paws.
Prevent damage, condition and moisturise. The ingredients are great for healing cuts and inflammation too. 
2oz./60ml in secure tin. Made in Canada.

Ingredients: Hemp Oil, Coconut Oil, Chamomile Oil, Calendula Oil, Beeswax, Hemp Terpenes, Hypericum (St. John's Wort), Vitamin E, Rosemary Essential Oil, Rosemary Extract.