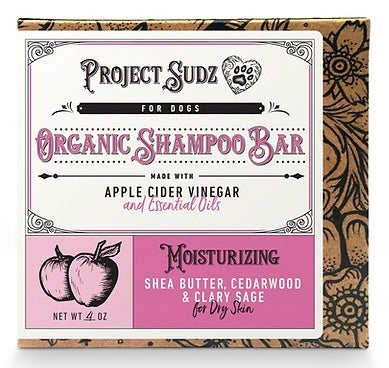 Project Sudz Moisturizing Shampoo Bar
Project Sudz Moisturizing Shampoo Bar for Dogs
Organic Shampoo Bar made with apple cider vinegar and essential oils. This formula is good for dry skin.
Ingredients:
Organic Saponified Oils: Olive, Coconut, Shea Butter and Castor
Organic Apple Cider Vinegar
Cedarwood Oil
HoWood Essential Oil
Clary Sage Essential Oil
Pink Kaolin Clay
Round Shampoo Bars are easy to use and hold. 
Directions:
Wet your pet. Hold bar in hand & rub all over your pet's belly, neck, legs and feet. Lather hands over remaining coat, avoiding the eyes and interior of the ears. Rinse & repeat, if necessary. Allow bar to dry before storing.
Project Sudz is committed to reducing single use plastics.

Cruelty Free
Plastic Free
Non-GMO
Vegan
Hand made in the USA