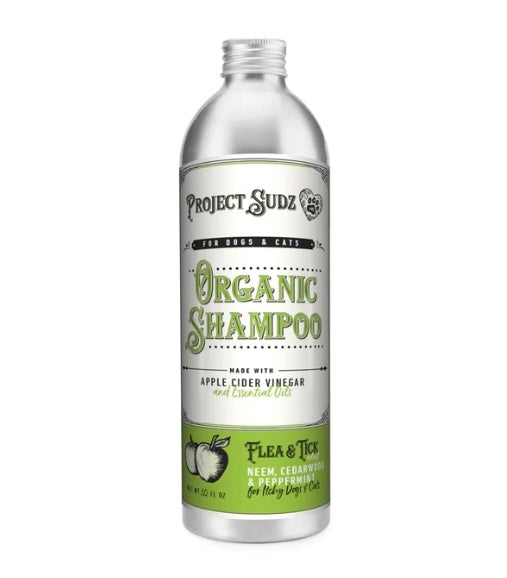 Project Sudz Flea and Tick Shampoo
Project Sudz Flea and Tick Shampoo for Dogs and Cats.
Our Flea and Tick Relief Shampoo helps eliminate itching from bug bites. We use Neem oil which has been known to help organic farmers keep fleas and ticks off their livestock. If it can help them we know it will help our furry friends. Use together with a Flea and Tick spray for added protection. 
DOGsAGE staff love that is contains Neem and Cedarwood which are hard to find in Canada in a flea and tick product. Olive oil, Coconut oil, Castor oil and Aloe are so good for the skin. Bonus, mosquitos hate peppermint.
Scent: Light minty scent
Ingredients: Water,: Organic Saponified Oils (Olive, Coconut, and Castor), Organic Apple Cider Vinegar, Organic Neem Oil, Cedarwood Essential Oil, Peppermint Essential Oil, Benzyl Alcohol, Ethylhexylglycerin, Niaouli Essential Oil, Sodium Chloride, Organic Aloe.
10 oz. Made in the USA.