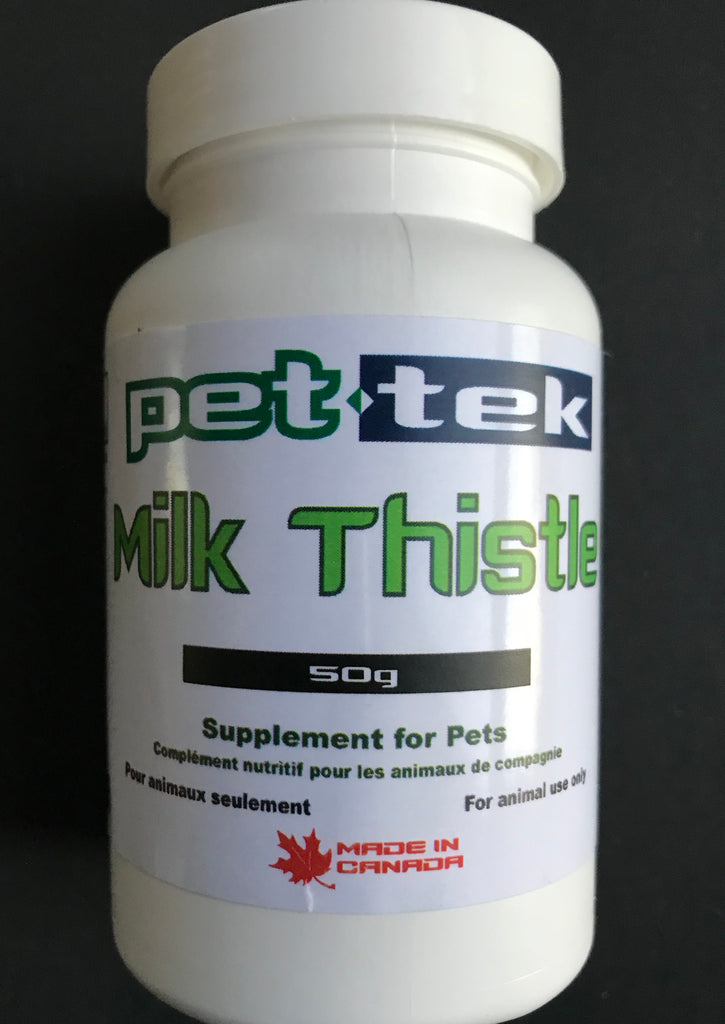 Milk Thistle
Pet-Tek Milk Thistle Supplement for Pets
Milk Thistle is an antioxidant that helps to treat and prevent liver disease and damage by rebuilding liver cells while removing toxins from the body. Helps reduce inflammation, supports immune system, stimulates neurons and fights free radicals. In addition to liver diseases, it has also been used to treat diabetes and inflammatory bowel disease. It protects against airway inflammation, improves resistance to oxidative stress. Supports cognitive function, helps inhibit the growth and proliferation of some types of cancer cells, helps prevent bone loss, helps learning and memory impairment.
Milk Thistle has many different naturally occurring vitamins, minerals, amino acids and flavonoids in it.  Silymarin is a flavonoid and is considered the "Main" Active Agent in Milk Thistle and is the reason that Milk Thistle is recommended for liver health. 
Our Milk Thistle Powder is an extract that has a guaranteed content of 50% Silymarin (which is the naturally occuring active ingredient that gives milk thistle its health benefits.) – this means that in a 550mg scoop dose there is 250mg of Silymarin.  This is a good base dose for maintaining liver health, but the dose can definitely be increased – this is a conversation that should be done with a Veterinarian and is dependent on the individual animal and their treatment regime.
Important note: Most other Milk Thistle supplements do not list the actual silymarin content. Unless it is listed on the bottle, milk thistle (silybum marianum) can legally contain zero silymarin 
content.  Without the silymarin, the milk thistle is basically a spice (think turmeric vs curcumin).
50g bottle. 1 scoop contains 550mg. Approx. 90 scoops per bottle.

Daily Dosage: DOGS: 1/2 scoop per 25 lbs (11kg).  Cats: 1/2 scoop
Made in Canada