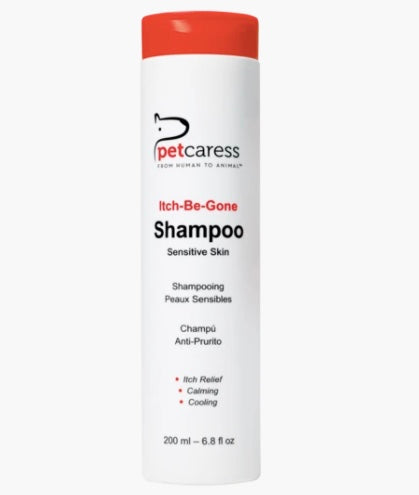 Itch Be Gone Shampoo
Itch Be Gone Dog Shampoo
Instant Calming & Cooling Itch Relief.

Natural itch relief for dogs. Best anti-itch dog shampoo. Eases irritation and hot spots. Stops itching and scratching. Soothes pink itchy skin and itchy paws.
A high end, luxurious groomer quality shampoo that is human grade and free of harsh chemicals. A small quantity of this shampoo creates a soft and gentle lather that cleanses thoroughly and rinses easily with no residues. This natural shampoo for dogs with dry skin alleviating itchiness for your pet's immediate comfort and delivers a fresh clean scent. pH balanced. Natural itch relief for dogs.

FROM HUMAN TO ANIMAL® THE ESSENCE OF THE BRAND
Pet Caress was inspired by a 25 year heritage of researching and developing high-end spa treatments and products with extraordinary visible results; Pevonia Natural Skincare. Recognized as the premier line in elite spas around the world, Pevonia's extraordinary treatment and product formulations and its global success laid the foundation for the birth of Pet Caress.
HERITAGE
Brought to you by the team of chemists and researchers that created Pevonia Botanica Natural Skincare…Pet Caress was created to meet market demand for a serious pet skincare line that delivers visible solutions to your pet's skin problems. From a world class guest experience to a first class pet experience, our slogan FROM HUMAN TO ANIMAL® perfectly embodies the essence of the brand. Far beyond pet care, it is the first serious skin care line, it is the loving caress of someone who truly cares, it is undeniable results…it is Pet Caress.
SATISFACTION GUARANTEED EXPERTLY FORMULATED
As pet lovers, we want nothing but the best for our furry friends. Pet Caress is lovingly formulated to meet the specific needs of your pet's skin without irritants or harmful chemicals. When it comes to extraordinary pet care, your satisfaction is guaranteed with Pet Caress. Meticulously crafted to work with the distinct differences in your pet's skin, Pet Caress is carefully formulated to deliver effective solutions to their specific skin issues. Cultivating the global heritage of natural skincare products trusted by many of the world's most renowned spas, Pet Caress unites decades of sourcing expertise and scientific research for unsurpassed results that ensure your satisfaction…and your pet's delight with every application.
It's the best anti-itch dog shampoo that:

Eases irritation and hot spots.

Stops itching and scratching.

Soothes pink itchy skin and itchy paws.
Use weekly/bi-weekly for one month to clear up serious itchy skin conditions.

This product gives back. Our humanimal advocacy program supports the humane treatment of animals with a percentage of profits. 
Human Best Quality Ingredients

Contains NO:

Alcohol, Mineral Oil, Lanolin, Parabens, Paba, Urea, Formeldahyde, Sodium Lauryl Sulfate, Methyllsothazolinone.




PRIMARY BENEFITS:




Relieves itching and scratching
Eases irritation
Soothing and calming
Cooling and well-being feeling
Unsurpassed coat cleaning
Eliminates odor
Leaves coat soft and lustrous

Ingredients
Sodium Lauroyl Oat Amino Acids, Cocamidopropyl Hydroxysultaine, Nymphea Alba Flower Extract (Water Lily), Glycyrrhiza Glabra (Licorice) Root Extract, Beta Glucan, Avena Sativa (Oat) Kernel Flour, Panthenol, Rosmarinus Officinalis (Rosemary) Leaf Oil.




Problem
Sensitive, Itchy, Irritated Skin
Solution
Itch-Be-Gone Shampoo Sensitive Skin
Size
200ml - 6.8oz
Recommended
Dogs, Cats, Horses