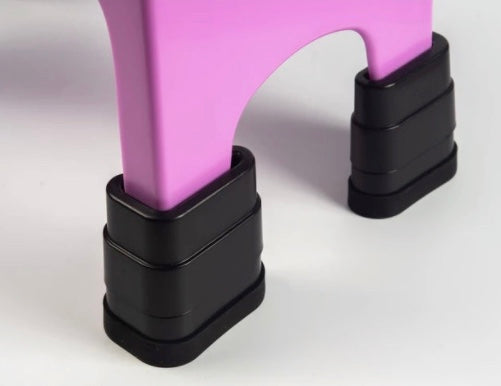 Fluff Trough Stackable Lifts and Extra Silicone Feet
Risers for Fluff Troughs
Do you need to add height to your Fluff Trough or XL Fluff Trough to make it just right for your furbaby? 
Get these stackable, sturdy lifts to add as many inches as your dog needs. They fit both sizes of Fluff Troughs. Each pack includes two sets of 4 stackable lifts (risers) with FDA-approved non-slip silicone feet that attach to the legs and clip into each other like lego blocks. 
1 pack (2 sets of 4, 8 risers) will add 2"
2 packs (4 sets of 4, 16 risers) will add 5"
3 packs  (6 sets of 4, 24 risers) will add 7"H
4 packs (8 sets of 4, 32 risers ) will add 9"H
*Please note the first set of lifts fit over the legs which reduces some of the height from the first set of lifts. 
Please supervise pets while using the product and don't let them chew on them or play with them. 
PRODUCT INFORMATION
The Fluff Trough stackable lifts are made from food-safe plastic and comes with FDA-approved black silicone feet. Each set includes 2 sets of 4 stackable lifts and non-slip feet.

Both pieces are made in China. The production is managed by our contract manufacturing team to ensure a high-quality and safe product. 
DOES NOT INCLUDE FLUFF TROUGH. You must order the Fluff Trough separately. 
Extra Set of Silicone Feet 
Each set of Fluff Trough feet includes a bag of 4 FDA silicone non-slip feet to fit the Fluff Trough or the Fluff Trough XL.

If you ordered a Fluff Trough Silicone Insert Set, Fluff Trough Binge Blocker Set, Fluff Trough Stainless Steel Set or Fluff Trough XL Silicone Insert Set, you do not need to order extra feet because these products come with 1 set of feet.