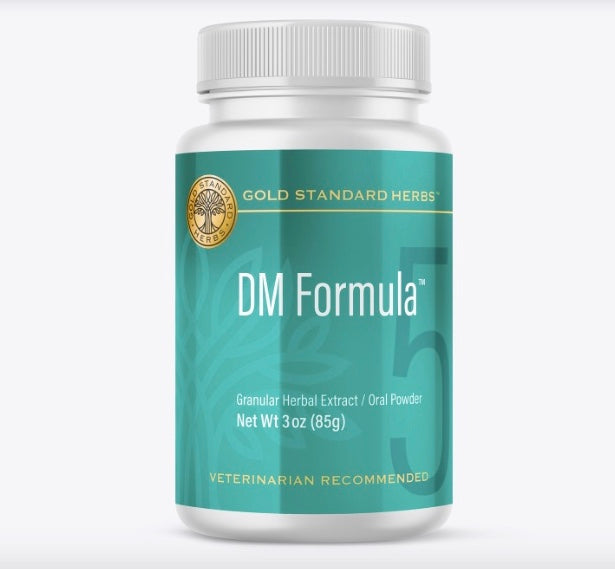 DM Formula by Gold Standard Herbs
Gold Standard Herbs DM Formula
A two-thousand-year-old formula adapted using cutting edge research to support the dog with degenerative myelopathy.
Degenerative myelopathy (DM) is a frustrating and heartbreaking condition for which modern medicine has no cure. Most veterinarians typically have nothing to offer. Even the help of trained rehabilitation therapists may not be enough to stop the heartbreaking progression to complete paralysis.
What if that decline could be halted? What if we could even turn back the clock a little bit in DM dogs?
DM used to be described as 'doggy MS', but the disease is much more like the human disease known as ALS. Dogs with DM have a mutation in the gene that codes for the SOD-1 (superoxide dismutase) enzyme. Instead of acting as an antioxidant, the enzyme creates "excitotoxicity" by causing a build up of glutamate in the spinal cord. As in ALS, that build up is toxic to nerves, causing them to slowly die.
There's no highly effective drug for ALS that we can borrow for the treatment of DM, but plenty of research has demonstrated the possible utility of plants for the condition.
Laboratory testing has shown that certain herbs can help decrease SOD in tissues and help protect neurons from dying from excess glutamate. We've integrated some of the most powerful of them into the DM Formula, which is an adaptation of the two-thousand-year-old formula known as Minor Bupleurum Combination (Xiao Chai Hu Tang).
If mutant SOD levels can be lowered and glutamate-induced injury mitigated, neurons in DM dogs that have not been fatally injured may return to some degree of normal function. Disease progression might be halted, and some animals may experience a return of strength and coordination.
Stabilization and improvement of DM dogs may be more likely if the patient is fed a real food diet that lowers the risk of oxidative stress and spinal cord inflammation. Improvement is also more likely if the patient is under the care of a rehabilitation therapist or physiotherapist. Specific treatments that may help include mobilization of the spine using massage and gentle chiropractic; the reduction of cord inflammation using anti-inflammatory acupuncture and laser treatments; and the reduction of oxidative stress using ozone therapy.
SUMMARY OF BENEFITS:
The first product specifically formulated to help stabilize and reverse symptoms in dogs with degenerative myelopathy (DM)
Can reverse symptoms in many animals that still have coordination and sensation in the hind limbs but are too weak to properly stand and walk.
Inhibits excitotoxicity from the mutated SOD-1 gene.
Inhibits deep cord inflammation and oxidative stress. 
Safe for use with all other physical and pharmaceutical therapies used in DM. 
For maximum benefit, combine with real fresh foo diet and physical therapies like: Chiropractic, PEMF (Assissi loops), Laser therapy, Acupuncture. 
For maximum benefit, limit use of formulas that enhance hind limb circulation including Kidney and Blood tonics regardless of Vendor. 
INGREDIENTS:
Bupleurum root
Ginseng root
Rhubarb root and rhizome
Ginger rhizome
Pinellia rhizome
Jujube
Salvia root
Scutellaria root
Natural flavouring
DOSING:
DM Formula is an organically grown concentrated herbal extract in powdered form. DM Formula acts more quickly and completely if your pet is fed a real food meat- and vegetable-based diet, and if they receive physical therapies like chiropractic, acupuncture, massage, PEMF and laser therapy by a practitioner knowledgeable in the unique pathophysiology of DM.
To use, just fold the herbs into your pet's real food diet or shake them up with broth or water and pour them over top if using canned or kibble.
As a suggested starting dose, give twice daily as follows:
Up to 15 pounds: 1/8 tsp
15 to 40 pounds: 1/4 tsp
40 to 70 pounds: 1/2 tsp
70 to 110 pounds: 3/4 tsp
Over 110 pounds: 1 tsp
If benefits are not seen, the dose can be safely doubled.
One bottle of DM Formula lasts over a month for dogs 50 lbs and under; and for two weeks for 100 lb dogs