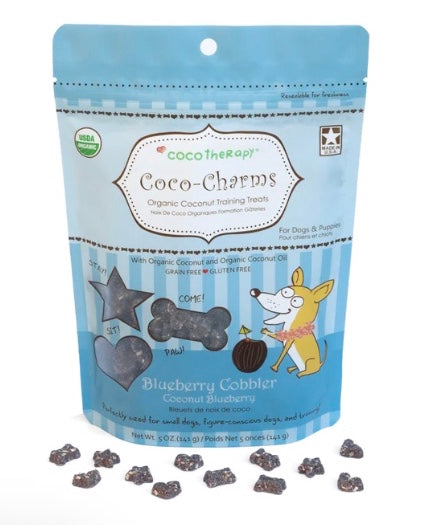 Cocotherapy Coco-Charms Blueberry Cobbler
Cocotherapy Blueberry Cobbler Coco-Charms
A healthy, organic training treat for dogs. Coco-Charms Training Treats are made of organic coconut and coconut oil. Coconut is a hypoallergenic, healthy ingredient. Made with raw coconut oil which is great for dog's skin and overall health. A truly delicious, healthy organic dog treat!
Perfectly sized for training, small dogs, or figure-conscious dogs! Coco-Charms™ Training Treats for dogs are made using 100% organic and non-GMO ingredients, organic coconut and coconut oil for dogs that are not only good for your furry friend, but ridiculously delicious too!  Absolutely no eggs, dairy, grains, colours or preservatives or artificial flavours so dogs with sensitive tummies or allergies can enjoy them too.
Coco-Charms Training Treats for dogs are a truly beneficial treat:
Supports digestive health – coconut fiber has been shown to support digestive health and provide the healthiest form of fiber

No animal protein. Excellent for dogs on a limited protein diet or single source protein diet (ie: dogs with kidney, liver issues, or allergies).

Supports skin and coat health
Supports healthy weight
Pure, simple ingredients
Tiny size perfect for small dogs, training and figure-conscious dog
Ingredients: Organic buckwheat flour, organic coconut, organic coconut nectar, organic coconut oil, organic blueberries.

All ingredients are 100% human grade, 100% USDA certified organic, and non-GMO.
Calorie Content (calculated):

Metabolizable Energy: 3,755 kcal/kg

1 treat: approximately 2 kcal
MADE IN THE USA.